Schedule
The meeting will start on Monday March 2 at 8:30am and will end on Friday March 6 after lunch.
The Physics Center will be open to participants Sunday afternoon at 3pm. More information about the venue (including directions) is available here.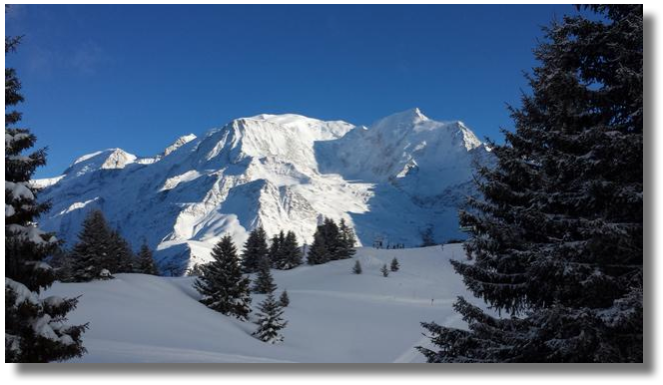 Mont-Blanc from les Houches
Registration fees
The registration and accomodation fees for the conference will be between 400 and 600 Euros. This includes lodging from Sunday afternoon to Friday morning and all meals from Sunday's dinner to Friday's lunch. We are confident we will be able to limit the fees to 400 Euros. However, we will not be able to confirm an exact number before before January 2015.
We hope that the meeting will be funded by CNRS "formation permanente", in what case, no CNRS member will have to pay the registration fees.
Accommodation
Rooms are provided to all participants in the facilities of Les Houches Physics Center for 5 nights (Sunday evening to Friday morning). Meals will also be provided by the Center from Sunday dinner to Friday lunch.

Most rooms are individual. A few rooms are available for couples. Accompanying persons have to register. They will be charged 45 Euros per night for meals and lodging.
For more information on the Center facilities, please refer to Les Houches website.